Beniteau Resident Title VI Complaint against EGLE
Read and Download
The Civil Rights complaint aims to address disparities in the state's permitting process and resident demands for home repair and/or relocation.
"I don't want to die for Jeep"

Beniteau Resident Civil Rights Complaint
Beniteau residents file federal civil rights complaint against the Michigan Department of Environment Great Lakes and Energy
On Monday, November 8, 2021, members of the Justice for Beniteau Residents group filed a Title VI Civil Rights complaint against the Michigan Department of Environment, Great Lakes and Energy (EGLE).  The complaint was submitted by the Great Lakes Environmental Law Center to the Environmental Protection Agency (EPA) on the residents' behalf. 
Focusing on the racial disparities in the state's permitting process, the complaint details the impact of EGLE's decisions on the residents of Beniteau Street. Beniteau residents live in closest proximity to the paint plant where we estimate 900 new Jeep Grand Cherokees are being built every day. 
"When my eyes start to burn, I start to become more afraid of all the things I can't smell than those that I can."

Beniteau Resident Civil Rights Complaint
What is a Title VI Complaint?

As part of the Civil Rights Act of 1964, Title VI "prohibits discrimination on the basis of race, color, and national origin in programs and activities receiving federal financial assistance."
"Simple justice requires that public funds, to which all taxpayers of all races [colors, and national origins] contribute, not be spent in any fashion which encourages, entrenches, subsidizes or results in racial [color or national origin] discrimination." ~ President John F. Kennedy (1963)
As a recipient of federal funding, if EGLE is found to have discriminated and cannot address the discrimination voluntarily, the EPA could move to terminate funds or refer the matter to the Department of Justice for appropriate legal action.
The complaint states that: "[t]he decisions by Michigan's Department of Environment, Great Lakes, and Energy (EGLE) allowing Stellantis to significantly expand its facilities continues the discriminatory legacy of requiring communities of color to bear the disproportionate burden of the industrial pollution generated by all of society. Unfortunately, the Stellantis Complex ("Facility") does not exist in isolation."
"We're not getting paid. We don't work there. But it's like we're being forced to live inside the factory."

Beniteau Resident Civil Rights Complaint
Since the project was announced in early 2019, EGLE has approved air quality permits without consideration of the proximity of the residents, the existing public health crisis, and the extreme poverty in the majority Black neighborhoods around the plant. "EGLE's decision to issue numerous permits requested for the Stellantis Complex in a short period, which allowed for a significant enlargement of air emissions in a low- income community where nearly all residents within 1 mile are people of color already inundated by other industrial sources, amounts to discrimination."
More Violations?
On September 20, 2021, Stellantis received the first of what has become three air quality violations. The violations are a direct result of resident complaints. Reporting being overwhelmed by paint fumes, burning eyes and throats and headaches, Beniteau residents have been calling the state's Pollution Emergency Alert System (PEAS) Hotline. More violation orders against the Mack Ave. Plant are anticipated. Stellantis has announced that they are working to fix the problems with "the greenest plant in North America" by the end of the year. This is unacceptable.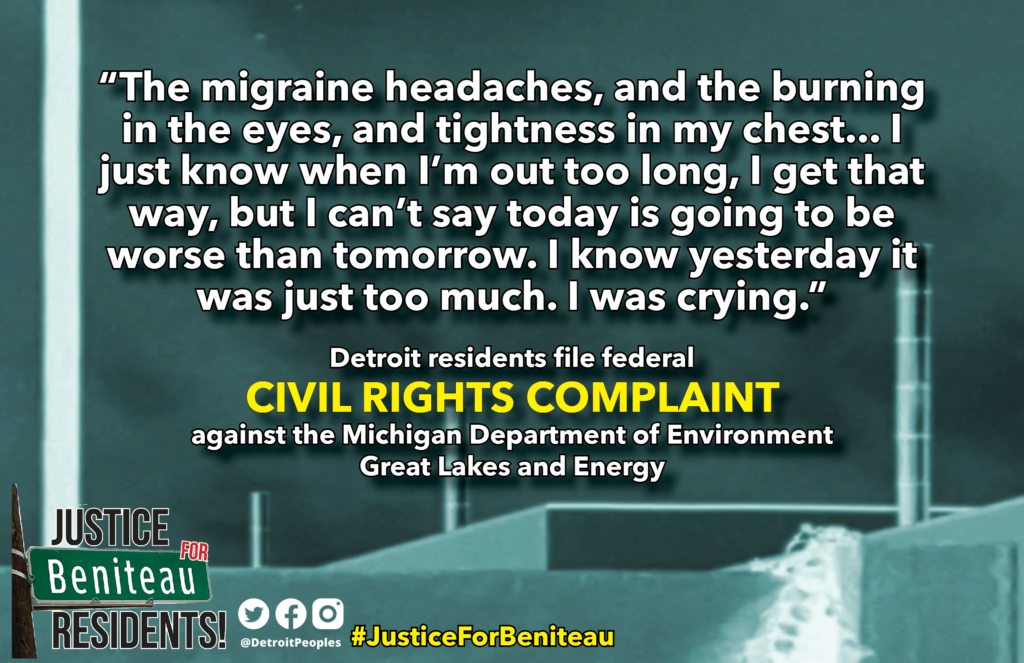 "The migraine headaches, and the burning in the eyes, and tightness in my chest… I just know when I'm out too long, I get that way, but I can't say today is going to be worse than tomorrow. I know yesterday it was just too much. I was crying."

Beniteau Resident Civil Rights Complaint
First Post-Violation Meeting With EGLE

On Wednesday, November 10, 2021, a delegation of Beniteau Residents had an initial meeting with representatives from EGLE to express their concerns and to push for their demands for increased funding for home repair and/or relocation to be met.
"The meeting was more of the same old talking about how this was a nuisance, about probabilities, and models while my neighbors and myself are the models sitting right in front of them,"
shared complainant Robert Shobe.
"It's like we have to argue for our humanity. They wouldn't want their families breathing this."
The civil rights complaint is the latest resident-led push to bring meaningful support and protections for Detroiters living near the paint plant. The residents will continue to push EGLE, Chrysler Jeep Stellantis, and their elected officials to address the injustice inherent in the expansion of the Detroit Assembly Complex.